Uniview UNV Control4 Integration Driver
There is a Control4 driver for Uniview / UNV cameras and NVRs available from this developer:
It allows integration with cameras on the network (probably best) or with cameras connected to the NVR.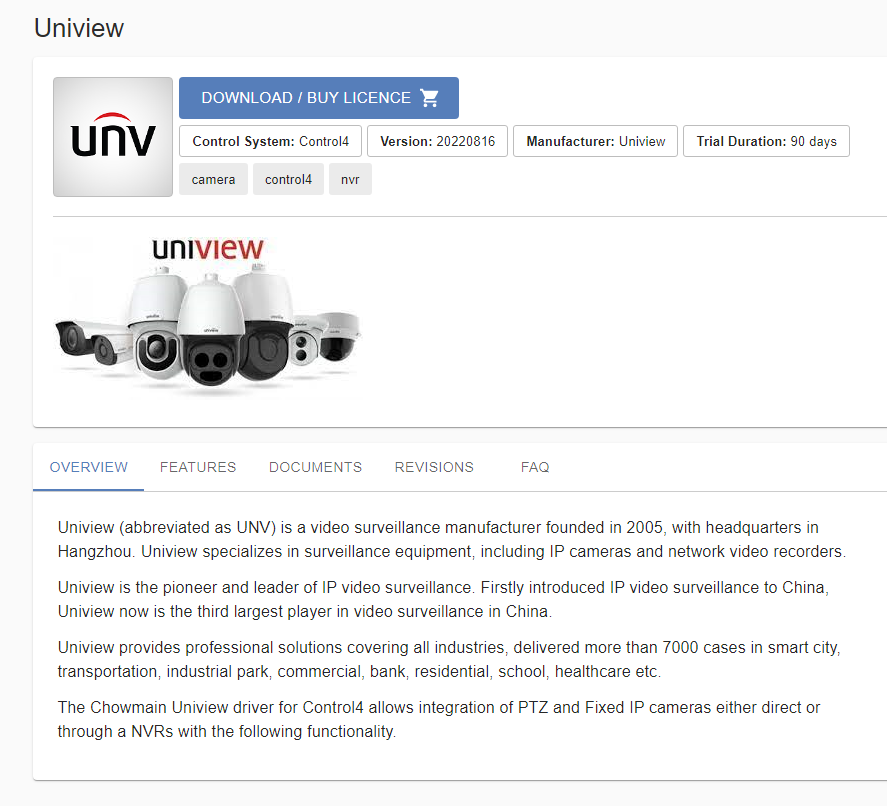 Related Articles

Uniview accessory guide

This link should take you to the latest accessory guide. 2022. https://www.univiewtechnology.com/wp-content/uploads/2022/07/UVT-Camera-Accessories-Guide_070622_final.pdf

Connect Foscam VD1 via ONVIF to Uniview (or other) NVR

The Foscam VD1 video doorbell works with its own P2P cloud app, and it can also work as an ONVIF camera with many/most NVR systems that support ONVIF. In order to connect it to an NVR we recommend you give it a static DHCP reservation in your router ...

Elk M1 Gold to Hubitat Integration

There is community written code written for Hubitat that allows it to communicate with an Elk M1 Gold with M1XEP Ethernet interface installed. The integration allows Hubitat to "see" arming state, zones, outputs, keypads. It also allows Hubitat to ...

EZCloud Service agreement

Please see the attached file for a copy of the Uniview EZ Cloud Service agreement. 2022-08-04

Insteon Integration with a Security Alarm System

Q: Is there an alarm system I can purchase which I can seemlessly connect with my insteon system? A: There are several ways to integrate Insteon with an alarm system. The most basic integration would be using an Insteon 2450 IOLinc which can accept ...